Roland's DJ-808 combines a DJ controller with a four-channel mixer, drum sequencing, vocal processing and Serato DJ integration.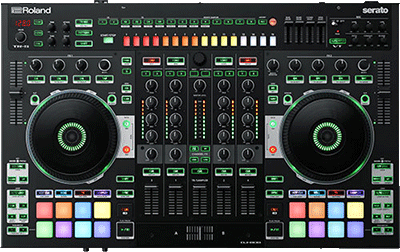 The DJ-808 VT Voice Transformer repitches voice to match the key of Serato DJ tracks, while two AIRA Link ports allow connect compatible synths and electronic gadgets, and produce a live remix using a USB cable. The integrated TR drum machine contains the Bass Drum, Snare Drum, Hi-Hats and Clap from the TR-808, TR-909, TR-707, and TR-606 drum machines. These sounds use Roland's Analog Circuit Behavior to replicate the electronic circuitry of the original rhythm boxes. In addition to the internal TR drum sounds, the TR-S sequencer can trigger the new eight-slot Serato Sampler within Serato DJ.
Built-in DVS support (with the purchase of a Serato DVS licence), dedicated loop control buttons, controls for Serato Flip, Hot Cue, FX and Key Sync are all supported. Key Sync and Loop functions have dedicated sections for adjusting key or shifting a loop for a particular deck.
The DJ-808 has a high-quality mic input with an XLR combo jack, and a dedicated vocal processor – the VT Voice Transformer – that can transform voice. Knobs for EQ, Pitch and Formant make dramatic vocal effects easy, and ducking automatically adjusts the volume when speaking or singing into the mic. The VT's Auto Pitch function will even re-pitch the incoming signal to match the key of Serato DJ tracks.
Key features:
· Built-in Roland TR drum machine with 606, 707, 808, 909 kicks, snares, claps and hi-hats.
· Control of Serato Sampler from TR-S sequencer.
· Built-in VT Voice Transformer with Pitch, Formant, Ducking and Serato key matching.
· Velocity-sensitive RGB pads.
· Large ultra-low-latency platters with integrated displays.
· Four high-quality integrated channel FX.
· Four-channel digital mixer
· Connect external instruments via Midi or AIRA Link USB and jam along with Serato DJ.
· 96kHz, 24-bit audio fidelity.
· Simultaneous control of two decks.
· 100mm pitch faders
· Connect turntables or CDJs with Serato DVS licence.
More: www.roland.com