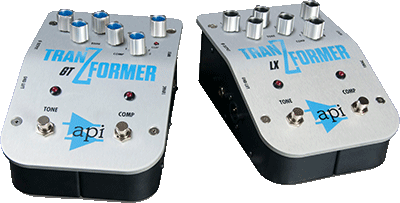 API has unveiled the TranZformer GT Guitar Pedal and LX Bass Pedal, bringing API mixing console processing into the MI domain.
The TranZformer GT and LX incorporate API's traditional analogue signal path to provide gain control, compression and equalisation in a single, floor-standing pedal.
Both units feature phase invert switches on each output, ground lift, clip indicator and transformer output. The stompboxes combine an API 525 feedback-type compressor with a three-band equaliser, optimised for guitar and bass respectively.
The TranZformer LX and GT each carry an MSRP of US$579.
More: www.APIaudio.com