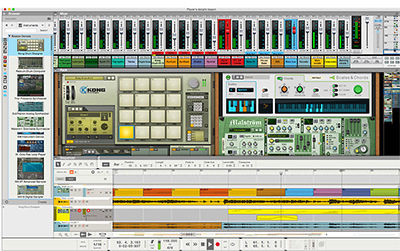 Propellerhead Software has announced the v9.1 update to its Reason music production software.
Reason 9.1 is a free update to Reason 9 that brings Ableton's Link technology to the Reason Rack. The first third-party DAW to support Ableton Link, Reason 9.1 can play in time with Link-enabled apps on desktop and mobile. The update builds on the Reason platform by introducing a host of new devices, sounds, and creative tools that inspire music makers to create music from initial concept to finished song.
Ableton Link was introduced in 2015 as a means to allow apps on different devices to play in time, needing only a Wi-Fi connection to start on the beat and stay in tempo. The technology was developed for Ableton Live and was quickly adopted in mobile apps such as Gadget by Korg, Figure by Allihoopa and iMaschine by Native Instruments.
'Adding Ableton Link as well as the three new Player devices, 1,000 new sounds, Pitch Edit, numerous workflow enhancements and the addition of the Pulsar dual-channel LFO makes Reason 9 even more fun for making music – from initial jam to polished song,' says Propellerhead Product Marketing Manager, Mattias Häggström Gerdt.
More: www.propellerheads.se