Radial Engineering has redesigned and upgraded the Tonebone BigShot I/O instrument selector.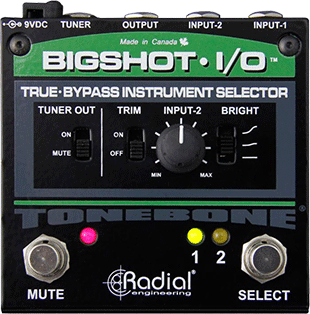 'Today, playing on stage is all about efficiency and maximising performance – no-one wants to compromise,' says Radial's Mike Bauer. 'If you are a bass player, you want to select between your active and passive basses quickly without having to adjust the volume on your amp after the changeover. The same applies to acoustic guitar, electric guitar or any other instrument. The changeover must happen fluidly. More importantly, if you change the output level from the instrument going to the amp, you invariably change the levels going to the PA and monitors. This means that the audio engineers must scramble to follow suit in order to maintain a proper balance.
'The BigShot I/O is a passive instrument selector that lets you select between two instruments using a footswitch. Input-B is equipped with a level control to pad down the input of the louder instrument to match the output. Should a passive instrument like an electric guitar be used, a separate three-position Bright switch may be inserted into the signal path to compensate for the load and the effect of the cable capacitance. Full-size LEDs give you immediate visual confirmation of the active input.'
Because the I/O is true-bypass, it addresses the needs of the most demanding purist. It is equipped with a separate tuner output – with a simple foot stomp, the sound going to the amp is muted and diverted to the tuner for quiet on-stage adjustments. Compact, rugged and fully passive, the BigShot I/O does not require any powering to make it work other than for the LEDs.
The Tonebone BigShot I/O is now shipping at an MAP of US$89.99.
More: www.radialeng.com