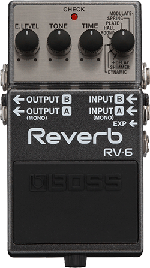 The Boss RV-6 compact reverb pedal (stompbox) offers eight reverb types using newly developed algorithms using the latest Boss DSP.
Reverb types include standards such as Room, Hall, Plate and Spring, along with Modulate, Dynamic, Shimmer and Reverb+Delay types.
Operation requires selection of an effect mode with dedicated control over Time, Tone and Level. Each mode calls on its own reverb parameters. The RV-6's auto-switching jacks support mono, mono-to-stereo and stereo-to-stereo operation. Feeding Input B input only provides a wet signal for parallel processing chains recording. There's also a jack for real-time control of effect level.
More: www.bossus.com