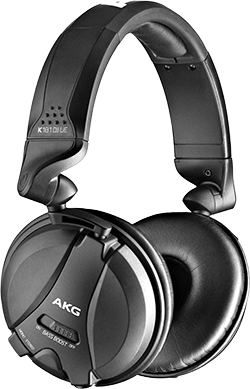 Built for professional use in a club environment, AKG's K181 DJ UE (Ultimate Edition) headphones are based on input from professional DJs.
The design features a closed back and sturdy 50mm transducer, delivering enough isolation and power to allow use against PA speakers, especially for pre-fader listening. The Bass Boost will help DJs better hear low frequencies, while the headphones' coiled cable offers freedom to move without stepping on a cable.
'The K181 DJ UE headphones are the result of our listening to the needs and demands of our DJ customers in the field,' says Philipp Schuster, AKG Headphones Product Line Manager. 'In speaking with our customers, we learned that some of their priorities include freedom of movement, high power and strong low-frequency reproduction. We feel the K181 DJ UE headphones meet these requirements and more.'
Key features:
· Bass Boost switch.
· Detachable coiled cable.
· Mono/stereo switch for single-ear monitoring.
· 3D-Axis folding for transport/storage in record or laptop bags.
· Lightweight construction enabling multiple mixing positions.
More: www.akg.com/pro