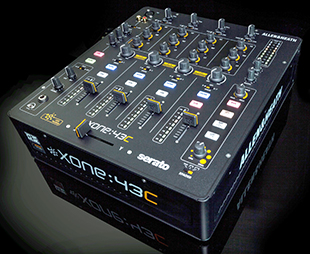 Allen & Heath has announced the Xone:43C, a sister to the Xone:43 that is supported by Serato DJ software, and offers DJing and DVS performance with the addition of a 16-channel internal soundcard and X:Link to connect compatible Xone:K Series Midi Controllers.
The mixer's 96kHz, 24-bit 16-channel USB soundcard enables replay and recording from any chosen DJ software, offering digital DJing using the controls of a 'real' mixer. With the Serato DJ Club Kit, Xone:43C will work plug-and-play with Serato DJ and is Serato DVS enabled, eliminating the need for an external interface. The mixeralso allows plug-and-play connection of a Xone:K series controller via the X:Link connection without using additional USB ports.
Xone:43C also includes an analogue voltage-controlled filter (VCF) offering HPF, BPF, LPF, frequency sweep and 'mild-to-wild' resonance control. The X:FX feature provides a single control per channel over the send/return to work with external FX units, and can also be routed to the Xone filter to add layers of FX and filtering.
In addition to the four phono/USB and line channels, Xone:43C features a flexible mic/aux input with XLR and phono connectors and two-band EQ. The crossfader has three curve settings and is also compatible with Innofader for enhanced scratch performance. The main mix output and mic input are on balanced XLR connectors, and there is a dedicated record output. The Xone:43C is equipped with a simple headphone monitoring section, which offers both 3.5mm and quarter-inch headphone sizes, with level, cue / mix control and the option for split cue monitoring.
'The Xone:43C offers a simple plug-and-play four-channel mixer solution, to create powerful DVS set-ups simply by purchasing the Serato DJ Club Kit,' says Xone Product Manager, Greg Ibbotson. 'We've designed it with all the essentials and club integration needed for a fluid mixing experience.'
More: www.allen-heath.com