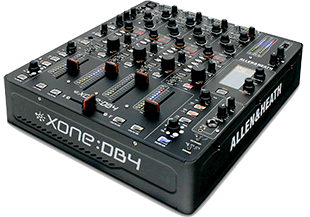 Allen & Heath's Xone:DB4 and Xone:DB2 digital DJ FX mixers are to be supported by Serato DJ software, and will be Serato DJ and DVS Upgrade Ready.
The result of a new collaboration between Allen & Heath and Serato, the integration will enable DJs using A&H's flagship Xone:DB mixers to use Serato DJ software without the expense and inconvenience of an external interface. Serato DJ users will also be able to create DVS set-ups with the Xone:DB mixers by purchasing the Serato DJ Club Kit. For the ultimate digital DJ set-up, a Xone:DB mixer over X:Link, for pre-mapped, hands-on control over cues, loops and Serato DJ FX.
'This makes it easier for DJs to use their favourite software with their favourite mixer,' says Xone Product Specialist, Greg Ibbotson explains. 'Any working DJ will know how much difference it makes to have one less piece of gear to transport and less cables during changeovers. Now you just need the Xone:DB mixer and your laptop running Serato DJ and you're good to go, and the Serato DJ Club Kit is the ideal route into the market leading DVS solution. With all the functionality of Serato and the world's most power FX mixers the creative potential is limitless.'
Support for Xone:DB4 and Xone:DB2 will be available in a forthcoming release of Serato DJ.
More: www.allen-heath.com