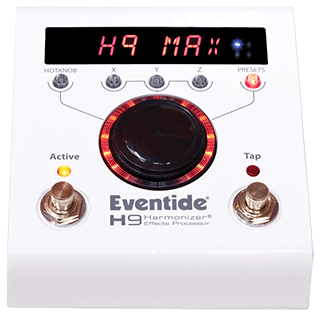 Describing it as 'a studio processor shrunk down to fit into a stompbox', Eventide has announced a further addition to its H9 Harmonizer stompbox line – the H9 Max Harmonizer.
The H9 Max comes pre-loaded with effectsfrom each of Eventide's TimeFactor, ModFactor, PitchFactor and Space stompboxes including the new Looper, plus all H9 exclusive algorithms (with are purchased in perpetuity at no additional cost). The unit comes bundled with 45 effect algorithms and more than 500 factory presets.
The H9 Max as features a simple, one-knob user interface and is fully-featured as a standalone stompbox. Creating and managing presets and managin live control of multiple H9s is achived via the included H9 Control app for Windows, OS-X and iOS wirelessly via Bluetooth. H9 Max owners can share algorithms with up to four additional H9s on a single Eventide.com account.
'The H9 Max is the ultimate bundled H9 for those who want it all,' says Eventide VP of Sales & Marketing, Ray Maxwell. 'It is a perfect combination with a couple of H9 Cores for a killer Eventide rig that packs maximum flexibility and the huge Eventide sound in a compact, cost-effective set-up.'
More: www.eventide.com