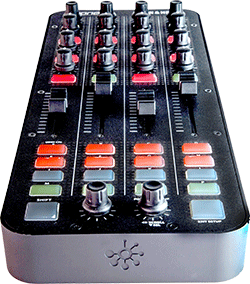 Allen & Heath has extended the MIDI controller range of its Xone DJ line with the release of the Xone:K1 – which joins the earlier Xone:K2 controller.
The K1 has a flexible layout allowing users to define and customise workflow and mixing, and works with all leading DJ software. It can be readily configured to provide access to level setting, triggering cues, adding effects and instant looping, freeing a DJ from focusing on a computer screen.
Featuring six endless rotary encoders with push switch, 12 analogue pots, four linear faders, and 30 backlit performance switches with three-colour illumination, the Xone:K1 brings comprehensive mapping to leading DJ and production software (such as Traktor Pro, Ableton, Virtual DJ and MixVibes), and offering a total of 52 assignable hardware controls.
Powered over USB so that a separate power cable is not needed, the unit can be used with other Xone:K series controllers and daisy-chained using Allen & Heath's proprietary X:Link protocol without the need for a separate USB hub. X:Link also allows expansion of a set-up by connecting directly to Allen & Heath's Xone 23C, DB2 and DB4 mixers.
A black padded case is available as an accessory, which doubles as a stand, bringing the K1 up to the same height as most pro DJ mixers.
'Xone:K1 is a valuable and key addition to the Xone family, providing vast control of popular software programs, slotting into multiple DJ hardware set-ups across the range with simple plug-n-play connection, and constructed to withstand life with the travelling DJ,' says A&H Xone Product Specialist, Greg Ibbotson.
The Xone:K1 will be available in Q3 2014, at an RRP of £159 (inc VAT).
More: www.allen-heath.com