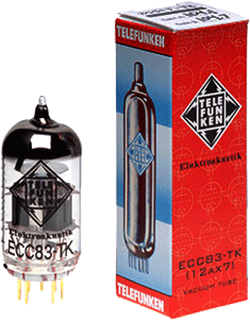 Manufactured in partnership with JJ Tubes in Slovakia, Telefunken Elektroakustik has announced a new line of Black Diamond Vacuum Tubes, including the ECC83-TK tube, a modern version of the 12AX7, originally developed in 1947.
In addition to rigorous testing procedures, all new production Telefunken tubes are cryogenically treated to ensure durability, and subjected to an extended burn-in period. Each tube is measured for all critical parameters of performance, including transconductance, gain, noise and microphonics. The tubes are re-measured subsequent to the burn-in process, and again prior to final packaging.
The cryogenic treatment process offers a number of benefits, both sonically and constructional. Cryogenically-treated vacuum tubes have a lowered noise floor, better microphonic performance, expanded dynamic range and a more consistent tone over a longer lifespan.