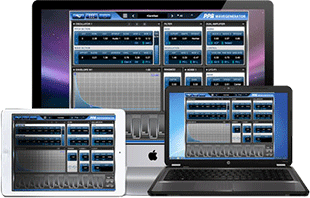 Wolfgang Palm has released PPG WaveGenerator for Mac OS-X and Windows.
The PPG WaveGenerator first appeared as an iOS App and received widespread acclaim from public and press alike. The new version of the same synth takes advantage of the additional power available on desktop and laptop computers running Mac and PC DAWs as a 64- or 32-bit VSTi.
Key features:
· Creation of waves and wavetables
· Sound creation by drawing or picking harmonics
· 256 waves assembled within a wave grid
· Three oscillators
· Three noise generators, for audio and modulations
· 
24dB low-pass filter, combined with an overdrive simulation
· Dual amplifier, for versatile control of two audio signals as well as panning
· 13 Envelopes, for control of pitch, waveform, filter, noise, gain, and panning
· Four LFOs
· Step sequencer with playback arpeggiator
·
 Delay/reverb
· 
Audio engine with two synthesis modes, and variable wave blending quality
· Directly accessible context help for each module
· Transform pictures into a sound
· Configurable schematic keypad, with expressive modulation possibilities
· More than 300 sounds
· Transfer patches from the iPad app to the desktop app.
Release in AU format is planned to follow shortly, and other formats are being considered.
Priced at €99, 
 PPG WaveGenerator is shipping now.
More:
http://wolfgangpalm.com