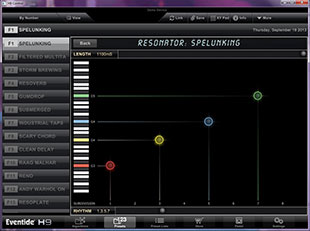 Eventide has announced the Resonator algorithm for the H9 Harmonizer stompbox, combining multi-tap delays, reverb and tunable resonances.
The algorithm features a unique graphical user interface, allowing dynamic placement of delay voices with musical note association with the resonators in real time. Each delay tap is assigned a note value that will ring out based on the input audio and the level of the resonance parameter. Resonator comes with 20 factory presets.
Resonator is free for download from within the H9 Control app for iOS, Windows or OSX through December 2013.
Coinciding with the release of Resonator, H9 Control for Windows, and OSX have been updated and now feature the ability to audition and purchase algorithms for the H9 via USB through the Amazon payment system.
Download
More: www.eventide.com