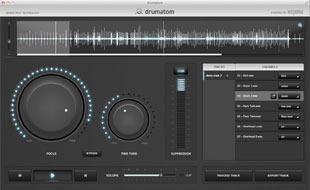 Digital audio technology start-up, accusonus, has become the latest Plugin Alliance partner, bringing drumatom to the Alliance stable.
Designed to reduce microphone crosstalk in multichannel drum recordings, drumatom is a standalone software application for Mac and PC that addresses channel leakage using Advanced Audio Analysis (A3 technology) – acoustics, signal processing, psychoacoustics and music theory.
Drum channel files are loaded (by dragging and dropping onto the GUI or via a menu option) and then grouped into tracks; Each channels is assigned a 'drum type' from a drop-down menu (though drumatom does this automatically in most cases), then a Process Track button prompts drumatom to make a processing pass). Individual drum channels can be addressed to adjust leakage using Focus and Fine Tune knobs to remove leakage. An Export Track button then allows the processed drum group (or individual drum channel) to be exported.
More: http://drumatom.com