Spectrasonics has released AAX Public Beta versions of three virtual instruments for Avid's Pro Tools 11. The new versions of Omnisphere, Trilian and Stylus RMX are available to registered users to test with the 64-bit version of Pro Tools on both OS-X and Windows platforms.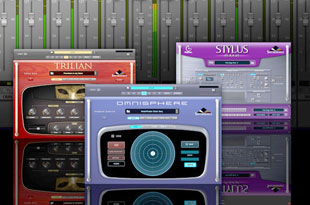 'Pro Tools 11 is a ground-up new 64-bit architecture application,' says Spectrasonics founder and Creative Director, Eric Persing. 'Spectrasonics is fully committed to the Pro Tools platform and we want to support our cutting-edge users who have already begun upgrading to it. This public beta of our 64-bit instruments offers AAX support to take advantage of all the new power in Pro Tools version 11. It's exciting for us to be at the forefront of the new 64-bit Pro Tools environment.'
Omnisphere Power Synth is Spectrasonics' flagship instrument, featuring a hybrid architecture of high-resolution streaming samples and a fully programmable semi-modular synthesiser that can be combined for layered patches. The Trilian Total Bass Module instrument is built on the same STEAM Engine technology as Omnisphere, offering a selection of patches for acoustic, electric and synth Basses. The Stylus RMX 'Realtime Groove Module' is a loop-based plug-in for creating rhythm parts using Spectrasonics' Advanced Groove Engine (SAGE) and featuring REX file compatibility for importing loops for library expansion.
All three instruments work in previous versions of Pro Tools as RTAS platform plug-ins. Registered users of Spectrasonics 64-bit Omnisphere, Trilian and Stylus RMX and Pro Tools 11 can use their user accounts to download the AAX Public Beta software in the Updates area.
More: www.spectrasonics.net