The MP-10 Pro Professional Media Player from Korg is now shipping.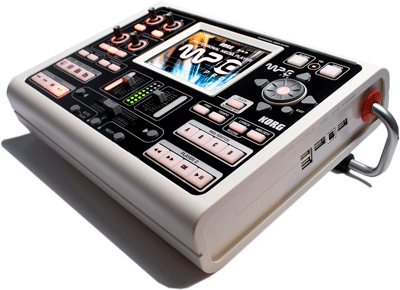 Aimed at mobile entertainers, solo keyboardists, singers and amateur musicians, the MP-10 Pro is a solid-state recorder featuring two independent media song players, each able to play MP3 and Midi files directly from a 120Gb internal hard drive. A motorised 60mm crossfader allows 'DJ-style mixing', and songs can be saved into multiple playlists whose database can be sorted using any criteria. Playlists can be imported or created on the fly. The Browser gives an immediate view of everything available in the selected genre. Using the Find function, the MP-10 Pro will search the entire database for a song, which can be immediately sent to either of the two players.
As a Midi instrument, the MP-10 Pro can play Midi files from the song players. The internal sound engine uses the same EDS (Enhanced Definition Synthesis) found in the Korg Pa500 arranger keyboard and can also be played from an external Midi device. The front panel offers four assignable performance pads for triggering sound effects and musical phrases. Onboard effects are available for the internal players and Midi engine.
For the entertainers, singers and, MCs, the MP-10 Pro is equipped with a TC Helicon vocal processor offering compression, EQ and delay. A pitch shifter for changing keys, a time stretch function for changing the tempo and an advanced vocal remover allow MP3 files to be customised.
The MP-10 Pro also features Korg's colour TouchView display. In addition to Midi and USB connections, connections for a PC keyboard make naming and cataloging songs very efficient. Two microphone inputs (XLR and quarter-inch jack) assure compatibility with nearly any mic. The video outputs (S-Video and Composite) allow karaoke-style lyrics, chord changes or even full scores to be displayed on an external video monitor. A headphone-based cue system is provided as well.
More: www.korg.com