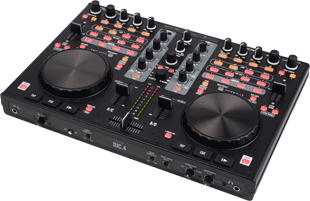 Stanton's DJC.4 Virtual DJ Digital Workstation promises a 'complete solution for today's digital DJs', with control of four decks and other integration options.
The DJC.4 comes bundled with a four-deck version of Virtual DJ LE, which allows scratching and mixing from four decks as well as control of video. Its built-in audio interface allows turntables and CD decks to be part of a performance. The control surface of the DJC.4 features large, touch-sensitive jog wheels, offering users extremely tight scratch and pitch bend.
'DJC.4 is a great tool for the digital DJ, providing easy set-up and ultimate control over even the most finely nuanced performances through its high-resolution jog wheels and pitch faders,' says Douglas Landfield, Global Marketing Manager of Gibson Pro Audio. 'This, combined with its rugged steel chassis, long-lasting faders and chassis-nutted pots, means users are going to be enjoying the DJC.4 for years to come.'
The DJC.4's browse-control section allows tracks to be loaded to any one of four decks, its while its shift layers allow direct access to filter, key and other advanced controls. The FX section provides direct access to three FX per deck, as well as a Fader-FX control mode. All controls can be mapped to any DJ/VJ software. In addition, there are two stereo line/phono inputs that can be used for turntable/CD connections, as well as DVS control (with an optional discounted Virtual DJ Pro upgrade).
More: www.stantondj.com