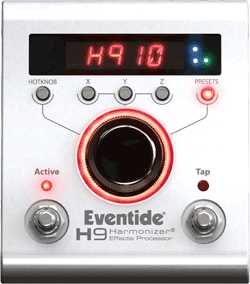 Eventide has unveiled the latest addition to its stompbox line, the H9 Harmonizer, which is able to run all of Eventide's stompbox effect processes.
The H9 Harmonizer features a simple, one-knob user interface and connects wirelessly via Bluetooth to iPods, iPhones and iPads for creating and managing presets, live control and in-app algorithm purchases.
'The H9 is designed to pack all that you need by way of delay, modulation, pitch and reverb effects, along with a fast, accurate tuner, in a small footprint,' says Eventide VP of Sales & Marketing, Ray Maxwell. 'We've also created a feature-rich remote control app, H9 Control, for controlling the H9 from an iPhone or iPad, wirelessly via Bluetooth or tethered to your PC or Mac via USB. As always, our prime directive is to deliver the Eventide sound that our users have come to rely on. Never before has that sound been packed into such a small package.'
The H9 comes bundled with a set of the most popular algorithms taken from Eventide's stompboxes – Liquid Chorus, Organic Chorus, Shimmer Chorus, Classic Chorus, Phase XO Chorus, Bias Tremolo, and Opto Tremolo from ModFactor; H910, H949, and Crystals from PitchFactor; Tape Echo and Vintage Delay from TimeFactor; and Hall and Shimmer from Space. The standard bundle also includes the first in a series of new H9-specific algorithms, UltraTap Delay.
While the H9 is fully controllable via its front panel, a free iOS app, H9 Control, can be downloaded to your iPhone or iPad for live editing, creating and managing presets and changing system settings wirelessly via Bluetooth. H9 Control can also be downloaded to your PC or Mac and connected via USB.
All of Eventide's stompbox algorithms and their associated presets are available for in-app purchase.
The H9 Harmonizer features stereo audio I/O, Midi I/O and Expression Pedal and Auxiliary Switch inputs. It will be available in March 2013.
More: www.eventide.com