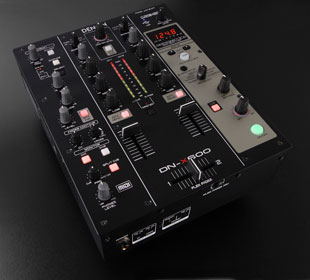 Denon DJ's DN-X600 is a two-channel digital mixer with Midi interface and an internal soundcard.
The unit features a 96kHz, 24-bit USB 2.0 Audio Interface (soundcard) with rour input/four output (stereo) channels, internal 32-bit floating-point DSP and 32-bit DAC. The unit can operate with DVS direct mode for applications using platter control signal operation.
The DN-X600 also features a DSP effects section providing delays, echo, flanger, filter, reverb, loop, Beat Scratch and BeatBreaker. It also has a two-way EFX Parameter Filter and it features a send/return control for use with external effects. Other controls include three-band channel EQ with full kills; 32-point crossfader contour adjustment with contour adjust; and Fader Start function (channel/crossfader). The Midi Thru function can be mapped for video transitions using applications such as Serato Video Scratch Live or Virtual DJ, while the channel faders continue to control and output audio. The mixer's control surface is also Midi-mappable, including knobs, keys and buttons.
The DN-X600 can work with all current operating systems, including Mac OS-X 10.6.4 and 32/64-bit Windows systems (XP, Vista, or Windows 7). A low-latency 32/64-bit ASIO driver is included for PC use. USB send/return routing is included for use with DJ software DSP effects such as Traktor, and USB Midi Clock In BPM Detection can be used with Traktor, Torq, Ableton and Cubase.
More: www.denondj.com