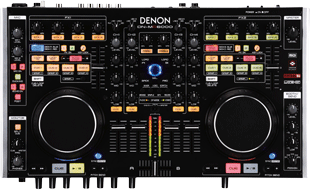 Denon DJ has announced the DN-MC6000 Mixer and Midi Controller, a four-channel/eight-source digital DJ mixer with Midi interface and internal sound card, and DN-SC2000 Midi controller
With real-time channel matrix operation and tabletop design, the DN-MC6000 is one of Denon DJ's flagship controllers. Also acting as an audio interface (with a two-input/two-output stereo soundcard included), it can be paired with the software of choice to provide turnkey control for mobile DJs and party DJs, or be the centrepiece of a fixed DJ rig.
The DN-MC6000 is Midi-mapable and compatible with other popular DJ programs. The unit interfaces with Mac OSX and Windows XP, Vista and Windows 7 operating systems, and includes a selectable Video/Audio control crossfader feature. Each side of the unit can control up to two decks (for a total of four), with visible deck color change for straightforward operation. A 'real' mixer, it is able to process audio without a connection to a computer.
Key features include rack-mountability (with included 19-inch rackmount accessory kit), a number of onboard Midi effect controls, durable construction, dual jog wheels, pitch fader, channel fader and crossfader. The unit's Pitch/Fader/Volume lock function holds the last known audio value and position until the null point is again reached. Also included are a high-output headphone amplifier, independent three-band channel EQ with 'kills' (high-mid-low) and utility presets to customise settings.
The DN-MC6000 comes bundled with Virtual DJ LE, Audio/Video/Karaoke mixing software in North/South America and Canada, and Native Instruments Traktor LE for Europe and Asia.
The DN-SC2000 Controller is an affordable, compact Midi controller designed for laptop DJs. Used together with a mixer and PC software, the DN-SC2000 is a two-layer system that can control two decks at once (with visible deck colour change) or be paired with another DN-SC2000 unit to control four decks.
It is optimised for Traktor Pro users and natively supported by Virtual DJ. The unit connects with PC or Mac via a USB 2.0 interface and offers auto loop, a wide range of effects, pitch lock and automatic beat sync.
More: www.denondj.com