Hosa Technology has announced its Beatport DJ Series, to simplify connectivity with different pieces of equipment.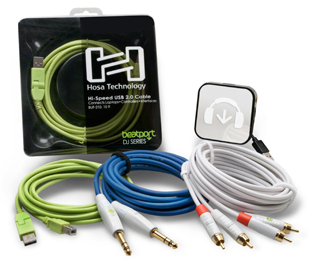 Beatport approached Hosa Technology with a partnership to allow both companies to broaden their reach into the DJ worls with connectivity solutions optimised for their applications. 'Beatport has built a brand that nurtures and cultivates the DJ/producer culture and, so, we're always looking for opportunities to advance this dynamic movement,' says Richard Ngo-Tran, Director of Business Development at Beatport. 'By partnering with an industry-leading brand like Hosa, we're able to further extend our reach to the DJ community.'
The Beatport DJ Series is designed for DJs and built to withstand the punishment gear typically encounters as it's moved from one location to the next. The line consists of seven products, including Hi-Speed USB Cables (Flex A to Type B) in 3-ft and 10-ft lengths, a USB 2.0 four-port Hub, Stereo Interconnects (Dual RCA to Same) in 3-ft and 10-ft lengths, and Balanced Interconnects (quarter-inch TRS to Same) in 3-ft and 10-ft lengths.
Beatport DJ Series USB Cables are used to connect a laptop to a DJ interface (Serato, Traktor) or controller. The Hi-Speed USB Cables claim a unique pivoting Type A connector that keeps the cable out of the way when elevated laptops are used. They support burst data transfer rates up to 480Mb/s, are compliant with the USB 2.0 serial bus interface standard, provide backward compatibility with all USB 1.1 interfaces, and are jacketed in the distinctive Beatport green for easy cable-type identification.
The Beatport DJ Series Stereo RCA Interconnects are typically used to connect the audio I/O of DJ mixers, turntables, CDJs, and select DJ controllers. The balanced quarter-inch Interconnects (TRS) are used to connect the output of audio interfaces and select DJ mixers to studio monitors. These analogue interconnects feature proprietary Rean connectors by Neutrik.
The Beatport DJ Series USB 2.0 Hubs are used to connect multiple devices such as external hard drives and DJ controllers to a single computer USB port. They are powered via USB and are compact enough to work and travel with a DJ rig. This USB 2.0 four-port Hub provides backward compatibility with all USB 1.1 interfaces and meets USB 2.0 specifications for data transfer rates up to 480 Mbps.
'During the past three-to-five years, the DJ segment has been the fastest and most stable growth category in all of MI,' says Jonathan Pusey, Hosa Technology's VP of Sales & Marketing. 'Beatport currently services 2.2 million DJs, 15,000 record labels, and has access to more than a billion fans. With these numbers and the growing acceptance of the performing DJ, we believe the time is ripe to further our involvement in this segment of the music market. With our Hosa-Beatport partnership and the resulting Beatport DJ Series, I'm confident we can make a significant contribution to the DJ community by providing superior connectivity products that properly address the unique requirements of this market segment.'
The Beatport DJ Series is available now. MSRP pricing ranges from US$14.95 for the BUF-203 Hi-Speed USB Cable to US$44.95 for the BRR-010X2 Stereo Interconnect.
More: www.hosatech.com