Allen & Heath has released v1.12 firmware for the Xone:DB4 digital DJ FX mixer.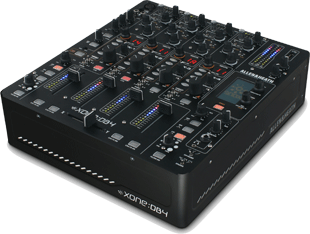 Among the enhancements and new features are a rotary mixer mode, revised gain structure, new effects architecture, new FX types and the addition of X:Link functionality to connect compatible Xone equipment.
New effects types have been added, including a Masif-Q DLY FX, BitBash-2 DMG FX, and Classic/KillSend/Send FX modes. The revised gain structure provides better signal level alignment between analogue and digital inputs, and the effects architecture now allows the tails of reverbs and delays to continue in the mix when the Wet/Dry control is turned back to Dry.
There is also an option to switch to rotary mixer mode, which swaps the functionality of the channel fader controls and the FX Wet/Dry knob. The added X:Link functionality allows the connection of compatible Xone products, such as the Xone:K2 DJ Midi controller.
Other new features include a metering option to show the main mix on the main meters even when a channel is cued, the option to cancel autocue mode, software RIAA is now available on Channel 1 and Channel 4, and more mixer settings can be saved on power off or to USB key.
Since its launch, the DB4 mixer has become the mixer of choice for top DJs, including Sasha, Pete Tong, John Digweed and Andy C.
See also:
Allen & Heath Xone:DB4
Firmware v1.12: Download