Allen & Heath has introduced the Xone:K2, a Midi controller and audio interface with a four-channel internal soundcard, configurable Midi surface with tri-colour LED illumination, USB bus power, and incorporating A&H's proprietary X:Link.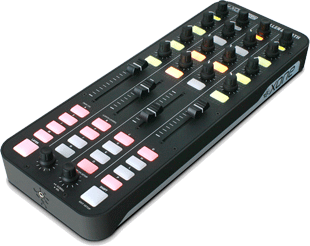 The K2 is designed to work with all Midi-enabled DAW applications and interface with popular DJ software packages, such as Ableton, Traktor Pro and Serato Scratch Live. It has 52 physical controls – including 12 analogue and six endless rotary encoders with push switch, four linear faders, and 30 back-lit performances switches – providing up to 171 Midi control commands across three layers. The K2's Midi interface can be configured by the user, so the unit can be left in Open Architecture (Latching Layers off) Mode or set to Latching Layers Mode.
K2 has an internal four-channel soundcard, that supports 44.1kHz and 48kHz audio, and all channels run from the PC to the unit, configured to provide two stereo channels, one for headphones one for master out, and one each for LR, allowing headphone cueing without interrupting the master out. There is also a dedicated 3.5mm headphone jack, and a master out on RCA phono connectors.
It is possible to link two K2 units together to double the control area using Allen & Heath's proprietary X:Link protocol. X:Link uses a standard RJ45 connector and distributes power and data, which means two units can be connected to your DAW using only one USB port.
Xone:K2 is constructed with a strong plastic base and steel front panel employing A&H's nutted pot construction to be both lightweight and hard-wearing. Finally, the K2 comes with a stylish carry case that doubles as a stand for travelling DJs.
The Xone:K2 carries a UK SRP of £199 (ex VAT) and will be available in January 2100.
Allen & Heath Xone:K2 brochure.
More: www.allen-heath.com