The eighteenth addition to Spitfire Audio's Originals series of rare and classic instruments is Wurli, a reimagining of the vintage Wurlizer EP200A electronic piano. 'This is an instrument that you'll have heard on countless records of the time,' says Spitfire Audio in-house composer Dan Keen, perhaps most noticeably on Supertramp's Dreamer.
Using performances by British session man Sean Hargreaves on the at North Seven Studios in London, Wurli offers four presets and adjustable controls courtesy of the company's in- house (AAX, AU, VST2 and VST3-compatible, NKS-supporting) plug-in, Wurli revisits the electronic piano manufactured by Wurlitzer from the mid-1950s through to the mid-1980s.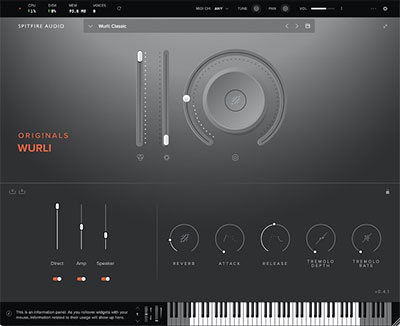 Of its presets, Mellow includes a post-produced pads signal created using granular synthesis; Funky has a crunchy overdriven signal, processed via a digital effects chain; and Stabs makes use of a shorter sample length, useful for more percussive sequences and backing vamping sections – that utilise five different signals – Direct, the direct input from the Wurli (for a clear representation of the keyboard); Amp, the keyboard amplified through an Ampeg B-15 amplifier; Speaker, the speaker output of the keyboard itself; Pads, the samples are time-stretched and passed through an effects chain (to create an atmospheric and ambient texture); and Drive, the samples are overdriven (to create a crunchy and fuzzy sound),
Its Tremolo Depth and Rate replicate the instrument's original controls, while Reverb determines the amount of reverb, Attack seta the attack of the ADSR envelope, and Release the ADSR envelope release.
'It's got a beautifully warm circuit to it, but it also has this bite that is just undeniable and cuts through a mix really well,' Keen says. 'It was actually part of our original [now-discontinued] North7Keys library, so any customer of that library will get Originals Wurli as a free download – but because we've brought this into our Merlin engine we've been able to do things with it that we wouldn't have been able to do on the original.'