The sound engine from Waldorf's Streichfett string synthesiser hardware is now available as a plug-in supporting all common formats – VST3, VST2, AU and AAX.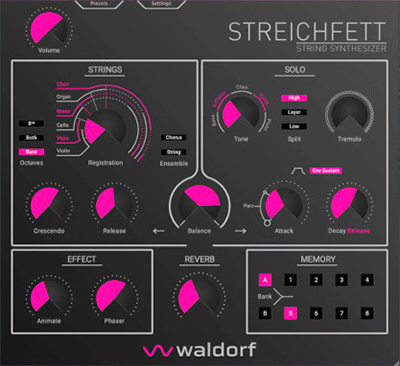 The plug-in's clearly structured user interface offers direct access to all important sound-shaping parameters. The UI is continuously scalable – whether using a 5K monitor or the FHD screen of a laptop, whether viewing in full size or as a small status display – the plug-in always remains in focus.
The legendary string machines that inspired the Streichfett could generate a massive wall of sound, and had mastered sound layering long before the advent of polyphonic synthesisers.
Now the Streichfett plug-in provides the experience of a homogeneous, dense, floating web of sounds can be created from a raw, basic electronic sounds in a few simple steps.
Streichfett combines the best of the previously extinct species of string synthesisers of the 1970s and early 1880s. Its dual sound engine features a fully polyphonic String Section and an eight voice Solo Section, which is essential for recreating classic movie sounds. The Ensemble Effect provides depth and movement to the String Section, while the Effects Section adds Phaser and Reverb effects. Additionally, the Animate Effect can be used to modulate the Strings Registration, allowing spectacular sound morphs.
The Solo Section features presets named Bass, E-Piano or Clavi and, as with a typical string machine, the sound has little to do with these names. Instead, these are shimmering and slightly percussive sounds that blend well with the String Section. Although the user interface is simple and easy to comprehend, it controls a rather complex sound engine that is capable of delivering rich and creamy pads unlike any other instrument.
See also:
More: https://waldorfmusic.com