Roland has added the SP-404MkII Creative Sampler and Effector to its SP compact sampler series – refined through further R&D and user community feedback, the manufacturer claims it to be 'faster and better than ever, with a vivid OLED display, expressive new pads, expanded effects, fluid sequencing and sampling, and a massive library of authentic sounds to inspire new music'.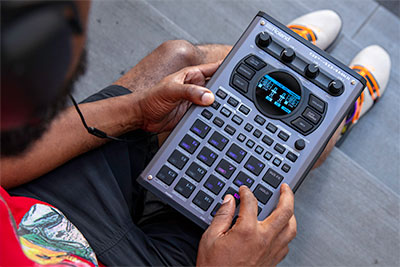 The SP-404MkII's features and improvements include 17 ultra-expressive pads and updated knobs for smooth, hands-on control. Beatmaking is made quicker with speedy boot time and fast project loading and sample import. Project access is also easier via 16GB of internal storage, which comes preloaded with a collection of curated samples. AA or mobile battery power allow location use, and the sampler can be interfaced with mobile devices via USB, and used to collaborate with partners using the dual headphones outputs and mic/guitar input.
Sample editing is managed via the SP404MkII's OLED screen and zoomable waveform view. Users can chop up samples in real-time or employ auto chop to slice samples automatically, then finesse them with envelope and pitch shift. The new resampling workflow enables users to re-record patterns and effects layers for detailed sound design. And with Skip Back Sampling, it's possible to capture inspired moments by recalling up to 25 seconds of audio from the most recent performance.
The SP-404MkII features both legacy SP effects and a selection of new options. Legacy staples like Vinyl Simulator and DJFX Looper are complemented with powerful additions that include Lo-fi, Cassette Simulator, and Resonator. Users can also plug into the mic/guitar input and jam with ready-to-go Vocoder, Auto Pitch, and Guitar Amp Simulator effects.
The enhanced sequencing features in the SP-404MkII include adjustable input quantise and shuffle for custom swing, Pad Link for firing multiple samples with a single tap, a Roll button for variable note repeat, and a BPM-per-bank for instant tempo changes. It's also possible to organise patterns for different sets and chain them together to automate playback.
SP users can download a faceplate template to create custom overlays, style the startup screen with personalised logos, and select a screensaver that matches a creative vibe.
With the SP-404MkII App from Roland Cloud Manager, beatmakers can take the SP experience deeper with a Mac or Windows computer. This app enhances workflow with a large sample waveform view, a pad matrix for sample and pattern management, easy import and export of files, and the ability to convert legacy SP 404SX and SP-404A projects to MkII format. Roland Cloud is also home to Beatmaker Sample Packs, an exclusive series of premium sample collections created by top sound designers and musicians to inspire productions on the SP-404MkII.