Antares Audio Technology has released Auto-Tune Slice, a hybrid of sampler and synthesiser with vocal transient detection, built-in effects and Auto-Tune functionality, as well as a library of presets.
Optimised for vocals but effective with beats, instruments and other audio, Auto-Tune Slice turns samples into manageable slices that automatically map to a Midi controller, rendering any sample into a playable instrument accompanied by 14 onboard effects.
Auto-Tune Slice comes with more than200 exclusive vocal samples and presets representing a wide range of genres and styles. This custom content was created by professional sound designers as well as 'name' producers and artists. Presets from artists and producers including Bon Iver and Aaron Dessner (Taylor Swift, The National).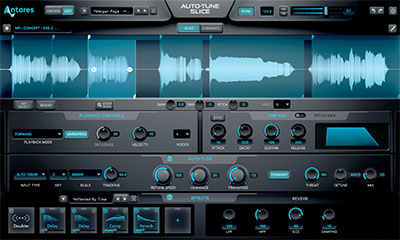 New custom presets and samples called Samplescape will bring regular updates of new and exclusive vocal content that are available free of charge to anyone with an active subscription to Auto-Tune Unlimited.
Auto-Tune Slice is presently the only sampler to include Auto-Tune baked in its DNA, allowing samples to be tuned without leaving the Auto-Tune Slice environment. With its advanced transient detection algorithm, Auto-Tune Slice slices up vocals more accurately than traditional samplers.
'Auto-Tune Slice is an engine of pure expression,' says Antares Audio Technologies CEO, Steve Berkley. 'By combining the value of regular updates to Samplescape content with our innovative vocal technology, we're giving creators endless opportunities by delivering fresh Samplescape content on a regular basis.' He goes on to say, 'Auto-Tune is the sound of today's modern vocals. With the release of Auto-Tune Slice, we're proud to continue making ground-breaking contributions that give anyone the power to express their best voice.'
Auto-Tune Slice is available exclusively with the Auto-Tune Unlimited subscription service that includes current editions of Auto-Tune, Auto-Tune Vocodist, all 11 of the vocal effects in the AVOX suite, as well as unlimited upgrades for included plug-ins, free access to select future plug-ins from Antares, and free video tutorials in the Auto-Tune Vocal Production Academy.
More: www.autotune.com