Novation's new Circuit Rhythm reckons to bring sampling, beat-making and performance 'like never before' to the company's Circuit family of instruments and controllers.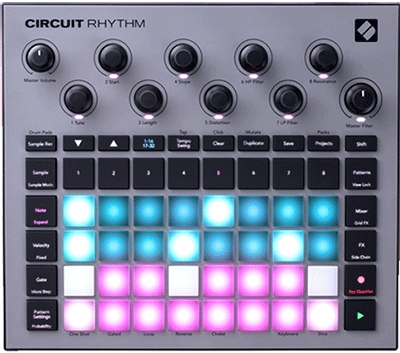 Designed with a focus on immediate sampling and artistic expression, Circuit Rhythm allows direct recording through its audio inputs to capture sound from records, synths or smartphone. An onboard sequencer makes turning these samples into beats both quick and simple. 'Whether playing in drums, making basslines or chopping straight from vinyl, music makers can play back samples however they want and listen through stereo out or with headphones,' the company says. 'Re-sample and sculpt sounds with limitless creative possibilities. '
Circuit Rhythm's eight sample tracks, each have their own 32-step patterns chainable for 256 steps per track. These can be quantised or given 'real human feel' with micro-step recording.
Performers can take to the stage with Circuit Rhythm and bring performance-focused Grid FX to their beats, using sbeat repeat, vinyl simulation and other effects. It can also become part of a studio set up with full-size five-pin Midi in, out and thru, and analogue sync out, and monitoring through audio or headphone outputs.
With a compact and tough build, built-in rechargeable battery and microSD card slot for expandable storage or loading in samples and projects, music makers are also free to wark away from the studio and on the move.
With Novation's online companion Components, Circuit Rhythm users can work either with the browser-based or standalone desktop app, and load samples, backup projects, download artist-made soundpacks, and create custom patches to give music production a unique flavour.
More: www.focusrite.com