Krotos has announced the Concept 2 synth plug-in, supercharging its predecessor in 'exciting and creative ways', making it faster for users to find sounds and customise them in an environment the company describes as 'simply powerful, yet powerfully simple'.
The company behind the innovative and award winning Dehumaniser, Reformer, Weaponiser and Igniter product range, has taken the Concept plug-in and given it a new granular oscillator, new advanced shape modulator, added and improved impulse responses, added an audio input, given it drag-and-drop modulation routing over three effects slots that offer convolution reverb, delay, flanger/chorus, filter, EQ, ring mod, limiter, transient shaper and compressors, and improved workflow.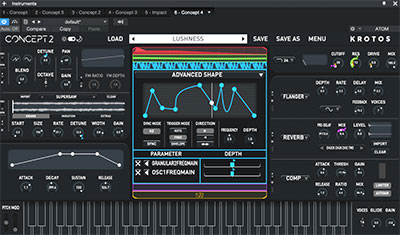 The plug-in also now comes with more than 700 preset sounds, including artist presets from Roni Size, Richard Devine and Kayla Painter.
Supported formats (64-bit only) cover VST, VST3, AU and AAX Native, requiring either a Mac Intel computer with a minimum of 2.4 GHz Intel Dual Core Processor, 4 GB of RAM, OS-X 10.11 or later, or Windows: 2.4 GHz Intel Dual Core Processor, 4 GB of RAM, Windows 10 1909 (or newer).
'Time is valuable for those working in sound creation; often, the technology gets in the way which stifles their creativity,' says Krotos founder and CEO, Orfeas Boteas. 'We wanted to give creators access to a rich sound design palette and let their imagination run wild without having to spend time learning how to use it. With Concept 2, you can get lost in the music, not the manual.'