Canadian developer Applied Acoustics Systems has released the Multiphonics CV-1 modular synthesiser for macOS and Windows, promising 'a brand new space for exploration, experimentation, creation, learning and fun'.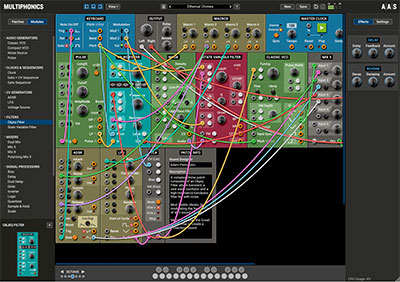 Multiphonics ships with a comprehensive library of modules, from the basics to unique and sophisticated originals, and a vast library of patches crafted by top sound designers.
'We are thrilled to be back in the world of modular synthesis – a return to our first love,' says at Applied Acoustics Systems lead product designer, Benoit Charland. 'Multiphonics was built from the ground up and developed with patching flexibility in mind. We took great care in making sure the modules were thought-out and designed to work together in an optimal manner providing a coherent patching experience. We also wanted all functionalities to be directly accessible from the interface in order to make the creation of patches and the realisation of musical ideas as fast and playful as possible.'
Key features:
Standalone and plug-in versions.
Easy synchronisation within a DAW.
Extensive of modulation options.
Midi control and expression.
No hidden menus.
High-level control with macro parameters.
Library of modules.
Library of patches by renowned artists.
Thorough documentation and tutorials.