With the release of Pigments 3, Arturia believes that its Polychrome synthesiser 'has evolved into a state-of-the-art instrument that spans every shade of synthesis'.
Pigments 3 brings additive synthesis to Polychrome, along with a new utility engine with sub oscillator and dual noise sample players, the iconic filter from the company's Jup-8 V model of Roland's mighty Jupiter 8, and four new FX processor including a multiband compressor.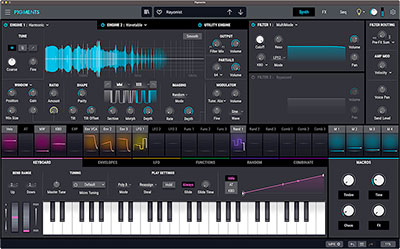 'Combined with unparalleled DSP performance, a revamped audio routing system, and its signature vibrant visual workflow, Pigments 3 sets the new softsynth standard – a producer's playground, a composer's workhorse and a sound designer's dream,' the company says.
Introduce the latest edition of Pigments, Arturia has a selection of offers, including an 'exclusive and essential' pack of five sound banks built to make the most of Pigments 3's palette.
The new Harmonic Engine supports additive synthesis with up to 512 partials, dual-formant filters (that can be morphed), even harmonic customisation, and various ways to modulate partials. A third Utility Engine adds an extra oscillator layer and up to two noise sample layers to Pigments' dual-engine sound for extra depth and colour, while 64 new wavetables brings the total available to 164.
There is also a ramp waveform, for the Virtual Analogue engine, the Jup-8 V4 low-pass filter, and enhanced filter routing that enables either filter to be directed to either FX bus. Pitch Delay is a clean, modern algorithm for creating exciting pitch-shifting ambience, while the Multi-Band Compressor meets user requests for creating a tight mix-ready sound without leaving Pigments. The BL-20 Flanger is a reimagining of an elusive analogue studio effect and Chorus Jun-6 is a Juno-6 emulation from the Arturia arsenal.
In addition, Pigments 3 carries enhanced in-app tutorials from the product's designers.
The limited edition Spectrum Sound Pack combines five sound banks, each including 100 presets that are designed to exhibit Pigments 3's features, 'from the new Harmonic Engine to the analogue charm of the Jup-8 V filter'.
More: www.arturia.com