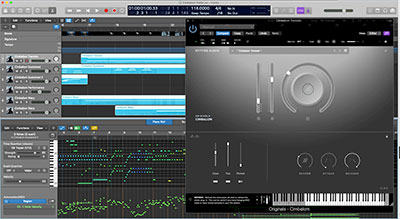 Spitfire Audio has added Cimbalom to its Originals series of writing tools, retaining the recording quality as the 'full-blown' flagship libraries but in a simplified and easy-to-use plug-in.
Capturing the shimmering tuned percussion instrument (familiar from innumerable Hollywood film scores) the library calls on the skills of cimbalom player Greg Knowles (who contributed to The Hunger Games in 2012 and 2007's The Golden Compass soundtracks) and the acoustic of London's Air Studios Lyndhurst Hall. The collection is presented as a 1.7GB library with three signals (Close, Tree and Pitched), five presets and three NKS (Native Kontrol Standard) compatible controls.
Control over the attack and release times, together with reverb, allows Originals Cimbalom to morph into eerie textural elements on the fly. The five presets offer Performance, Short Damped, Short Sustained, Tremolo and Warp (using the attack and release times plus pitched signal to create a reversed-like textural pad).
Originals Cimbalom is available as an AAX, AU, VST2 and VST3 plug-in supporting Native Instruments' NKS for Mac (OS X 10.10 or later) and Windows (7, 8, and 10 – latest Service Pack) that loads directly into any compatible DAW. It comes RRP of £29 (inc. VAT)/US$29/€29 (inc. VAT).