G-Sonique's EDM/BigRoom Ammunition is a multi-instrument/rompler plug-in for EDM, trance, BigRoom and house music production, offering upwards of 130, multi-octave/multi-layer instruments/sounds.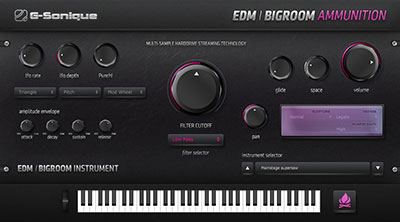 Most of sounds are processed with analogue hardware from Avalon and Crane Song, as well as cutom outboard. All instruments and sounds can be modified with LFO (rate and depth) modulating volume/expression, panning, pitch, amplitude envelope and glide (glide time) using legato or polyphonic modes.
Two or more instruments can be layered to create new kinds of sound, and various external G-Sonique VST effects can also be usedto modify them. EDM/BigRoom Amunition uses multi-sample/multi-octave gard drive streaming technology which saves RAM (data are loaded from hard drive) with hiqh-quality sound interpolation.
EDM/BigRoom Amunition is available for Windows and Mac (VSTi plug-in in x32/x64bit for Windows, VSTi plug-in for Mac, AU Audio Unit plug-in for Mac).
More: www.g-sonique.com/edm-bigroom-ammunition-vst-au-audiounit-plugin.html