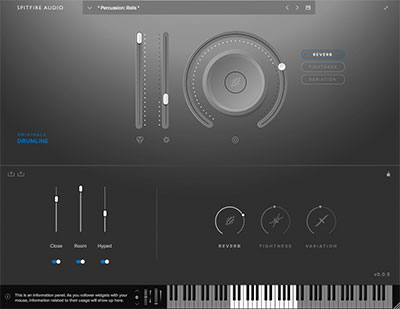 Spitfire Audio has announced Drumline, a sound library recorded with world champion drum corps The Blue Devils by Bleeding Fingers Music CEO Russell Emanuel at Fox's Newman Scoring Stage in Los Angeles.
The eighth release in Spitfire Audio's ongoing Originals series of library tools – offering the same recording quality as the 'full-blown' libraries on which the company has built its reputation – Drumline joins Epic Brass & Woods, Felt Piano, Cinematic Percussion, Cinematic Soft Piano, Intimate Strings and Firewood Piano as a free plug-in.
The project was a collaboration between the Bleeding Fingers Music composer collective (a joint venture between composer Hans Zimmer, his business partner Steve Kofsky and Extreme Music, the production arm of Sony/ATV Music Publishing), producing 1.5GB of sampled snares, tenor drums, bass drums and cymbals with five straightforward NKS (Native Kontrol Standard) compatible controls. The recordings are accompanied by variable effects presented as nine presets.
Drumline captures the spirit of the American sports stadium and the drumlins that have performed within to for so long. Founded in 1957, The Blue Devils drumline and Bugle Corps is a world-renowned marching music ensemble based in Concord, California. Spending summers travelling throughout the US, competing and performing for millions in massive stadia, this is the most decorated ensemble in Drum Corps International history, having won the World Championship title an unprecedented 19 times. The Blue Devils' performance pedigree extends beyond the US with performances and outreach in Europe, Japan and South Africa.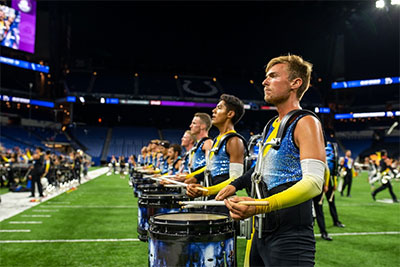 'This has been a very exciting project for us to work on with Spitfire Audio,' says Blue Devils Performing Arts CEO, Shaun Gallant. 'They are truly the best in the business, and we're so thankful for this opportunity to partner with them in providing tools for arrangers and producers everywhere. This is only the beginning of what is sure to be an incredible partnership – we can't wait to see what opportunities the future presents.'
'We're enormously excited to be releasing Drumline with the exceptional players from The Blue Devils,' responds Spitfire Audio co-founder and composer, Paul Thomson. 'Our mission is to inspire a generation of composers and, working with The Blue Devils and producer Russell Emanuel, we've created something that is going to inspire composers of all ages to learn more about this exciting musical genre.'
Drumline is available as an AAX, AU, VST2 and VST3 plug-in supporting Native Instruments' NKS (Native Kontrol Standard) for Mac OS-X 10.10 or later and Windows 7, 8, and 10 (latest Service Pack) that loads directly into any compatible DAW at an RRP of £29 (inc VAT)/$29/€29 (inc. VAT).