Arturia has released V Collection 8, a suite of 28 software instruments that covers analogue and digital synthesisers, organs, acoustic and electric pianos, and string machines – all recreations of influential and iconic instruments of their time.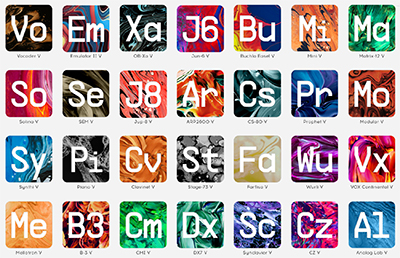 The instruments are emulated using exclusive analogue and physical modelling technology for realism, with sound capabilities that go beyond their ancestors. The virtual instruments can be used standalone or in a DAW of choice, and are designed to work seamlessly with Midi controllers.
Joining the likes of the Mini V, Mellotron V and DX7 V from V Collection 7, are the Jun-6 V 'the legendary easy-to-use polysynth with an irresistible creamy sound that stirs the soul, with iconic chorus and enhanced modulation for the richest chords and arps'; the Emulator II V 'perfect dusty lo-fi sampling toolkit, combining the original Emulator's digital grit that you love with the cutting-edge creative flexibility that you need'; the Vocoder V 'iconic 16-band vocoder expanded with advanced synth, sampler and modulation capabilities, offering a sound that truly speaks for itself'; and the OB-Xa V 'faithful to the fat, aggressive sound of the original and supercharged with new features, OB-Xa V will take you for a wild sonic ride'.
There are also upgrades to the Jup-8 V 4 'legendary polyphonic flagship responsible for some of the most awe-inspiring sounds of all time, reborn with a colossal new sound engine'; and the Stage-73 V 2 'original electric piano superpower, re-energised with a new physical modeling engine, an authentic pedal and amp rig, advanced tonal customisations'. Additionally, Analog Lab V gives 'instant access to every preset from all of V Collection's instruments, in one smart interface. With intuitive browsing, custom playlists, easy sound mixing and layering'; and PatchWorks contains 'new and expertly-curated patches that elevate V Collection's synthesiers beyond their hardware predecessors'.
Every new instrument in V Collection 8 has had its workflow upgraded, and includes four new control macros, a new browser, step-by-step integrated tutorials, and a fresh selection of sounds.
More: www.arturia.com