Eplex7 DSP has updated Spherum FX re-synthesiser with the release of a 64-bit Windows version of the 'futuristic re-synthesiser'.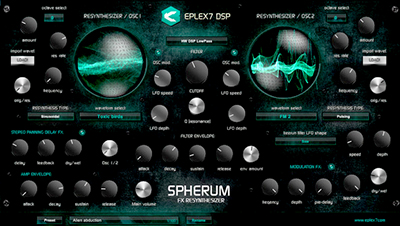 Spherum FX generates sound by using specific waveforms that can be additionally re-synthesised and modulated to create new sounds, frequencies and variations. The plug-in is intended mainly for creating FX, futuristic effects as well as noises, explosions, lasers, plasmatic morphing, sci-fi gunshots, electrical, atmospheric discharges and other off-worldly sounds.
According to the manufacturer, the goal of the development was 'to create tool that is very easy to use, intuitive, and always produce good sounding results. Professional sound results are created without endless fine-tuning of knobs/parameters while offering unique sound.'
Spherum FX is presented as a music production tool for all genres of dance music producer, film music and video games music producer or sound designer. The company reckons that it is is especially useful for psytrance/goa trance/hi-tech trance/electro house/dance/futuristic drum and bass/experimental/sci-fi film music, and music for video games.
More: https://eplex7.com/spherum-fx-re-synthesizer-vsti-plugin