UK PA specialist BishopSound has announced its two British Voiced FRFR (Full Range Flat Response) modelling guitar amplifiers – the 300W Orion 8 and 400W RMS Orion 12.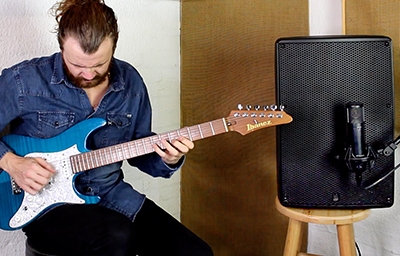 The trapezoidal compact Orion 8 weighs 9kg and includes TWS Bluetooth enabling guitarists to sing and play along to any track for rehearsal at home, in a studio, live streaming or professional performance. The Orion 12 has onboard Bluetooth, which means that it can be used with a smartphone to provide backing tracks. The Orion also features a separate USB input and five-band EQ. Suitable for home practice and recording it is equally capable of SPLs required on stage or in rehearsal.
Sturdily constructed in moulded enclosures, the Orion 8 and 12 both come with a 35mm pole mount, and can be used in a variety of orientations including on a side in floor monitor mode. Two channels allow the mic channel to be used as a mono modeller input via a jack plug, with the line channel offering stereo inputs (with a mono output) using either a 2x mono jack to 2x phono adaptor or a 2x mono jack to stereo minijack adaptor.
Equally, Orion can run vocals and a backing track and a stereo modeller (or acoustic guitar with stereo FX) in the Line channel.
Designed and built to withstand professional use the Orion 8 and 12 is available direct from BishopSound.
More: www.bishopsound.com