Eventide has expanded its compact pedal range with the release of Blackhole, drawing on the algorithm found in its Blackhole plug-in and Space 'Factor-series' stompbox.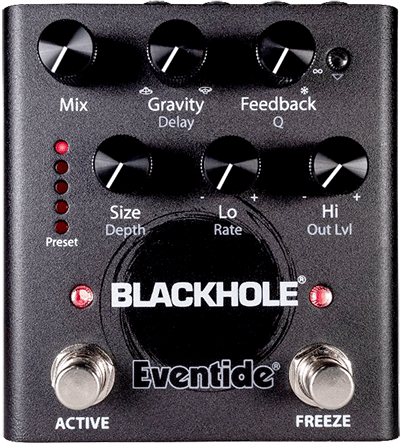 Blackhole can load up to 127 presets via Midi, which are also accessible in the preset list on the Eventide Device Manager (EDM), spanning cathedral-esque spaces to aural experimentation. It features two types of infinite reverb – Infinite mode continuously layers new sound on top of a suspended reverb while Freeze mode holds the effect in stasis, allowing you to play over the reverb tail. The Freeze Footswitch allows instant access to this feature.
Unlike reverbs offering pre or post modulation of effect and signal, Blackhole builds modulation into the reverb structure, which can be used to smooth out rough edges of the most extreme settings and offer tone-shaping ability. Like all Eventide pedals, Blackhole allows fine-tuning of every aspect of the effect through an intuitive interface.
Key features:
Five presets loaded with more available via EDM software.
PreDelay offsets the onset of reverb.
Freeze mode allows footswitch to access the Feedback's freeze function.
Dual action Active Footswitch is latching or momentary.
Rear panel Guitar/Line Level switch for matching impedances.
Mapping of any combination of parameters to an expression pedal.
Use a single Aux switch to Tap Tempo or a triple Aux switch for preset change.
Midi capability over TRS (with a Midi/TRS cable or converter) or USB.
Buffered, Relay, DSP+FX or Kill dry bypass.
Catch-up mode when toggling between presets/parameters.
Device Manager PC/Mac application for updates, system settings and presets.
Gravity control tailors the reverb tail to normal or inverse decay.
More: www.eventideaudio.com