Reason Studios has released Friktion Modeled Strings, a Rack Extension plug-in for Reason's virtual rack that can be used in any digital audio workstation or for standalone music making.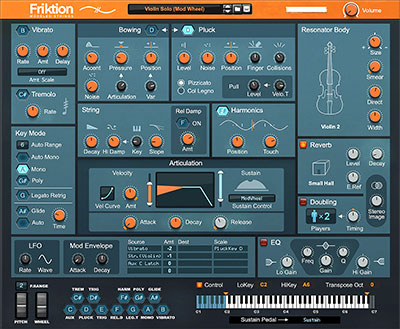 Friktion is a physical modelling string synthsiser module designed to be a highly playable instrument with full control over every aspect of the sound, from the fundamental shape of the instrument itself to adjustment of finger placement and bow pressure. It claims nuanced performance possibilities for violin, viola, cello and bass, but can also be used to create organic string sounds with expressive performance controls.
'The magic with Friktion is how great it feels to play it,' says Reason Product Manager, Mattias Häggström Gerdt. 'With just a regular Midi keyboard, you can easily conjure up incredibly emotive performances–both with violin instruments and strings yet unheard.'
Reason plugs into any digital audio workstation as a VST3/AU/AAX plug-in, making it available regardless of what software host is being used to add organic sounds – along with Reason's already wide offering of instruments, effects, utilities and other Rack Extensions.
Friktion Modeled Strings is available as a separate purchase for US$99/€109.