Using a hybrid modular synthesis approach, PreSonus' Deep Flight One instrument library for Studio One's Presence XT sampler 'draws on rare and sought-after analogue and digital synthesisers and layered field recordings, sweetened with legendary and exotic signal processors, to create a huge range of organic, deep and inspiring sounds'.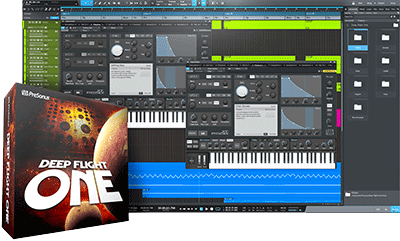 According to PreSonus, 'Deep Flight One delivers dramatic sounds, both tonal and atonal, from field recordings; percussive sounds and tonal and atonal soundscapes from classic modular synths; and otherworldly textures of the type much sought after by TV and film composers, electronic music producers, and others seeking fresh sounds'.
Deep Flight One multisample presets can be used as is or in combination of multiple layered elements. The samples represent raw material to be modified using familiar synthesiser filters, envelopes, modulation and effects. Sample-start modulation – controlled in real time using key velocity – ensures that no two single keystrokes sound exactly the same.
Deep Flight One also makes extensive use of the real-time Note FX plug-ins in Studio One Professional, including arpeggiators, chorders and rhythmic gating effects. Presets are structured in versions with and without Note FX. All instruments offer powerful real time controllers for outstanding expressiveness.
Deep Flight One includes 131 presets for Studio One Professional's Multi Instrument and 300 single instrument presets created from more than 3GB of original sample content. In addition, Deep Flight One comes with a collection of 50 Musicloops, that provide building blocks for arrangements with full editing capabilities.