MeldaProduction has announced the MSuperLooper DAW plug-in, allowing loops be recorded and overdubbed on the fly across up to 16 tracks with up to four loops in each, and each with its own modular effect pipeline.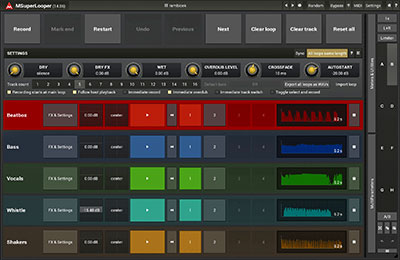 MSuperLooper enables complex multi-part performances to be built up in a single instance of the plug-in, with MeldaProduction's 'checkpoint' concept placing Record, Mark End, Restart, Undo, Previous, Next, Clear loop, Clear track and Reset All buttons at the top of its GUI and easily assignable to a Midi controller or other device.
Musically, MSuperLooper can run in sync with a DAW or freely, so users can mark the master loop end point manually or lock the loop length to the host DAW's timeline. Thereafter, loops can also be flipped between forward and reverse playback at the click of a button – without losing sync. Each of the 16 tracks can hold up to four separate loops, making it perfectly possible to capture variations on individual parts – different lines for the verse and chorus, for example.
Elsewhere, MSuperLooper features a full MXXX-based effects rack into which allows an array of diverse effects processors to be loaded (matched up to MeldaProduction plug-in licences owned). Beyond its liberating looping workflow and supercharged effects engine, MSuperLooper is also well equipped for Midi control, allowing notes and CCs (Control Changes) to be assigned to switches and effect parameters manually or via Midi learn for real-time manipulation via a controller's buttons, pads, knobs, and foot switches.
MSuperLooper is available to purchase – as AAX, AU, VST and VST3-supporting plug-ins for Mac (64-bit only) and Windows (32-bit and 64-bit).