Plugin Alliance has announced the Knif Audio Knifonium plug-in, making sister company Brainworx Audio's partnership with Finnish company Knif Audio with an enhanced emulation of the extraordinary Knifonium synthesiser and its 26 vacuum tubes.
The Knifonium features two tube-driven oscillators, a 4th-order ladder filter, a ring modulator and a steampunk aesthetic (worthy of American science fiction author KW Jeter – originator of the term – himself). Handcrafted in small batches by designer Jonte Knif, the original hardware unit reflects his attention to detail. But beautiful as it is, the Knifonium is not just expensive eye-candy capable of making 'weird noises' but rather an exceptionally musical and inspiring instrument that offers countless possibilities for shaping and modulating sounds.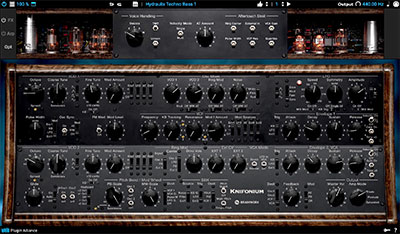 Although a new addition to the Plugin Alliance family, the Knif Audio name is familiar to hardcore synth freaks and audiophile engineers. Lead designer Jonte Knif has been making vacuum tube-based hardware for mixing, mastering and sound design for years, and his Knifonium synth 'sounds like nothing else' in his words.
Engineers at Brainworx Audio have made plug-in version of the Knifonium more accessible and easier to use than the original, and also added features that aren't possible in the analogue world. With eight independent voices added to the synthesiser, Knif Audio Knifonium opens up an entirely new universe of possibilities as an enhanced emulation.
The software version also brings M/S (mid-side) and stereo Spread capabilities, a powerful Unison mode, as well as the carefully-curated FX section, including vintage-style phaser, plug-in partner brand SPL's EQ Ranger, Wavefolder, and more as a wide range of effects that Knif Audio Knifonium users will want to use.
Knif confirms that it sounds and behaves just like the real thing, as a result of Brainworx Audio's meticulously modelling of the complete circuits of the original hardware – including all 26 tubes, and applied its TMT (Tolerance Modeling Technology) to recreate the natural variations in Envelope parameters, pitch, LFO speed, and many more characteristics to make this digital recreation sound as realistically analogue and natural as possible.
Knif Audio Knifonium is available as an AAX AudioSuite-, AAX Native-, AU-, VST2- and VST3-supporting, fully NKS (Native Kontrol Standard) virtual instrument plug-in for macOS 10.9 through 10.15 and Windows 7 through 10) at an introductory price of US$199.99 until 10 August 2020, rising to an MSRP of US$299.