With features derived from the sound module of Carlsbro's top-of-range CSD600 e-kit, the new októ model A percussion pad aims to make a lot of drummers very happy.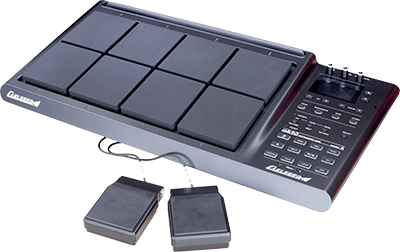 At a price point comparable to many two- and four-pad models – and a series of tuition and learning modes – it also boasts pro-level bells and whistles to satisfy creative production needs.
The októ A offers 408 drum voices, 30 preset drum kits, 20 user defined drum kits, as well as record, playback, demo and teaching functions – including 20 demo songs and 30 coach mode practice songs. There are also six reverb effects with strength, depth, time and filter adjustments.
From the hardware perspective, the októ A has eight user-configurable, responsive rubber pads and two foot controllers for bass drum and hi-hat control; the entire pad configuration is reversible, to accommodate both left and right handed drummers, at the touch of a button. The októ A can be further expanded with optional externally connected pads, cymbals and pedals.
A micro USB power port enables portable powering from a laptop or a mobile power bank, and a full size USB-B port is available for Midi data transfer to and from a sequencer or DAW. A feature unique to the októ A is its Bluetooth Midi data transmission, allowing the user to connect wirelessly to portable devices running music production or tutorial software.
'The októ model A offers a long-term investment for the student percussionist that will continue to fully support them as their skills develop and their requirements expand,' says Studiomaster/Carlsbro General Manager, Patrick Almond. 'For the accomplished rhythm player or digital production aficionado, it is an amazingly affordable pro spec'd piece of kit. There is nothing comparable available on the market that offers so many features to such a wide cross-section of potential users, at that price point.'
More: www.carlsbro.com