Brainworx Audio has announced the bx_rockergain 100 amplifier plug-in, 'perfect for creating heavy, earthquaking guitar sounds suited to rock and metal music-making with minimal noise'.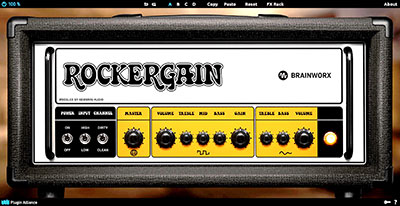 Having been a key player in the heavy, crunchy sound of British tube heads since the late sixties, the Orange Rockerverb was the company's first super-saturated high-gain model. Embracing the British brand's earthquaking guitar tones of the new millennium, Orange landed itself an instant smash-hit with the Rockerverb, an amp that would soon be heard on monumental recordings by major metal bands like Korn and Slipknot.
The bx_rockergain 100 plug-in offers a 'chimey' Clean channel with bass and Ttreble control, and an earthquaking Dirty channel with bass/mid/treble control, driven by four EL34 tubes in the power section and four 12AX7 tubes in the preamp section. It comes with additional features familiar in Brainworx plug-ins. Presented in a scalable interface, these include its full FX Rack with host-sync-able lo-fi delay, noise gate, tight and smooth filters, and power soak, plus pre and power amp bypass.
Brainworx also provides 120 high-end recording chains to use with bx_rockergain 100, offering emulations of a wide variety of boutique recording equipment.
More: www.brainworx.audio