e-instruments has released the Stradivari Violin virtual instrument plug-in in partnership with Native Instruments.
Known for Kontakt-based instruments including Session Horns, Session Strings, and Session Keys, e-instruments recorded the samples in Cremona, the birthplace of Stradivari, in the auditorium designed to hear its sound, the Auditorium Giovanno Arvedi.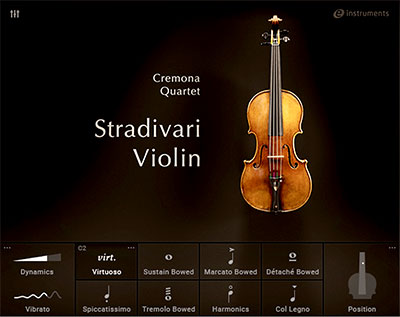 e-instruments' performance model takes the recording of a professional violinist's vibrato technique, then reapplies the behaviour of the vibrato parameters to the sample, allowing it to be automates or controlled in real-time, resulting in realistic control for an expressive and natural sound.
'When the Museo del Violino (guardian of the Stradivari collection) wanted a way to capture and preserve the tone and playability of their priceless collection of instruments they turned to e-instruments,' the company says. 'The collaboration has been a perfect fit with the painstaking process garnering the attention of the worldwide press when the recording took place in January 2019.
'The recreation of this iconic instrument makes playing the sound of Stradivari a reality, in more ways than one. Not only does the high-quality sample content preserve the sound of this one-of-a-kind instrument for future generations, but also packs the mastery of this historic violin into a powerful instrument for modern composers.'
The project brought new technical challenges to the e-instruments team, who wanted their 24-bit, 48kHz recreation to be free of compromise both in terms of both sound and playability. The Stradivari Violin features multichannel stereo phase alignment, with each note of the violin sampled at different dynamics and phase-aligned in stereo across multiple microphones. This ensures that all dynamic transitions are free from phasing artefacts and dynamic changes over long legato transitions,.
The sample set takes up 23.5GB/39GB using lossless sample compression, and requires free Kontakt 6 Player or Kontakt v6.2.2.