Roland has introduced the Zenology Software Synthesizer, an expandable plug-in version of the Roland Zen-Core Synthesis System for macOS and Windows.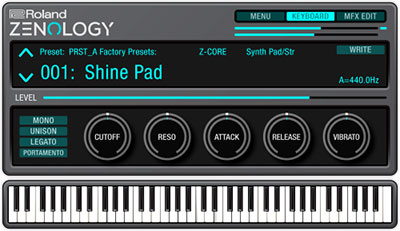 The most advanced sound engine to be made by Roland to date, Zen-Core allows tones to be created and share with other users and across compatible Roland hardware. Building on this, Zenology' brings Zen-Core into DAWs, and brings sound compatibility between software and a range of hardware that has not previously been possible.
Zenology's browser is easy to navigate, and allows users to filter and organise sounds, rate favourites, create custom banks, share with collaborators, and use sounds from artists and professional sound designers. Zenology' can import and export the Zen-Core single tone with compatible Roland hardware, including Fantom, Jupiter-X and RD-88.
In coming months, Zenology' will see deep editing capabilities added and new synth engine expansions, and will support Model Expansions for recreations of classic Roland synthesisers like the Jupiter-8, Juno-106, SH-101 and JX-8P. Model Expansions use Analog Behavior Modeling to access the character of these instruments in modern DAWs. The soon-to-be-released Zenology' Pro will lend itself to sound design through an optimised interface and logical layout.
Zenology' is available exclusively to Roland Cloud members. Access is granted through the newly updated Roland Cloud Manager app, which is one of many new Roland Cloud membership enhancements. Zenology' features 3,597 Tones and 80 Drum Kits, while Zenology' Lite has 176 Tones and six Drum Kits. The forthcoming Zenology' Pro builds on this with full access to the deep editing capabilities of the Zen-Core Synthesis System.
More: www.roland.com