Reason Studios has released Reason 11.3, bringing the Reason Rack to Avid Pro Tools as a native AAX plug-in.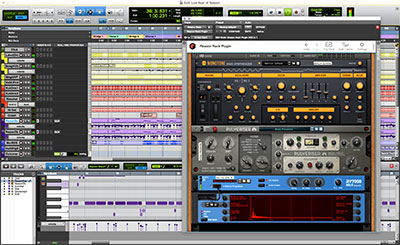 The addition of AAX support brings Reason's large musical array of creative effects and Midi processors (called Players) within the rach of a wider community of beatmakers and sound designers. Reason's free routing of devices through its 'cabling system' enables signal flows unachievable in the physical world – complementing Pro Tools' audio recording and editing. Its extensive bank of patches, samples and loops gives Avid users sounds and effects for immediate use or as a launching spot for their own artistic exploration.
'It's amazing to be back in Pro Tools,' says Reason Product Manager, Mattias Häggström Gerdt. 'With a vast rack of inspiring instruments and effects, Reason is a perfect fit for the industry standard recording software that is Pro Tools. I can't wait to hear all the great music that will come out of this.'
'Avid is thrilled to see the seamless support for Reason Studios in Pro Tools offered through AAX,' adds Ed Gray, Director, Partnering Programs at Avid. 'Reason has always opened up new worlds for music creation for Pro Tools users, and with this tight integration, it deserves to be an automatic purchase.'
Reason 11.3 is available now via the Reason Studios website and authorised resellers worldwide. The software includes additional improvements and bug fixes, and is also available for free download by registered Reason 11 users and at upgrade prices to owners of previous Reason versions. As in the past, Reason also functions as a standalone digital audio workstation.