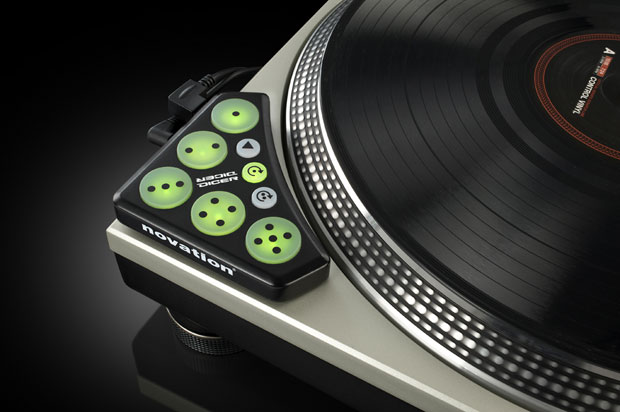 Novation's Dicer is a performance controller designed for the 'digital' DJ, using the cue-point and looping features of Serato Scratch Live.
Soft-touch 'dice' buttons provide real-time visual feedback from Scratch Live software. Their compact form factor and versatile mounting options enable them to be fastened securely on the corner of turntables, CDJs or a laptop – Dicer fits the 45RPM-adaptor hole on a Technics 1200-series turntable, or on to any flat surface using Novation's removable DJ putty.
Dicer provides instant control of Serato's Cue Point, Loop Roll and Auto Loop features, allowing DJ to throw tricks into a set without touching a computer. In addition, two shift layers on each Dicer allow pad command assignments to any Midi parameter in software. A pair of Dicers requires one USB socket; an included mini-jack cable provides data connection and bus power to the second unit.
Dicers are class-compliant Midi controllers, and they can be used straight out of the box on a Mac or PC without installing any custom drivers or additional software. As standard Midi devices, Dicers can be programmed to control any Midi-compatible software, such as Native Instruments Traktor, Ableton Live or Propellerhead Reason. Using Dicer's shift functions, up to 60 Midi assignments can be made, to control everything from effects plug-ins to software samplers and instruments. Full integration with Serato Scratch Live (including LED feedback) requires version 2.1 of the software (available soon).
Supplied in pairs, the compact USB-powered devices are compatible with any Scratch Live setup, whether using turntables or CDJs.