Following its 2.0 update, which included CGI Integration, Real-time Rendering, Binaural Monitoring, both macOS and Windows Support, Ambisonics and surround file import, and a number of new licensing models to suit all levels of user, Sound Particles 2.1 brings a rewritten audio engine, batch processing and increased track-based functionality, along with many more feature updates. It also introduces licensing options ranging from multiroom facilities and film productions, through to independent professionals and home audio enthusiasts.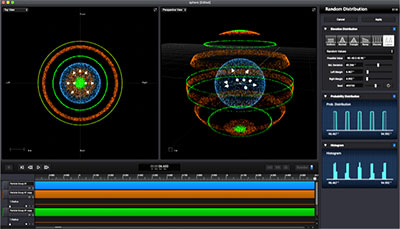 Sound Particles is an immersive 3D CGI-like application for film, TV, VR and game audio production. Introduced in 2015, Sound Particles offers unique and efficient workflows, increasing creativity and reducing the time needed to create and record complex sounds in virtual 3D environments.
Since its release just over four years ago Sound Particles has been used to create effects on Hollywood feature film releases, epic TV shows and AAA videogames, including Game of Thrones, Maleficent: Mistress of Evil, Ready Player One, Alita: Battle Angel and Assassin's Creed: Origins.
New features:
Batch Processing.
Track presets.
User templates.
Completely rewritten 3D audio engine.
Additional features:
Enable/disable modifiers and audio files.
Enhanced automation features.
This major release is available to download now or via professional audio resellers. Access to workflows and features is available through monthly subscription, starting at US$16.90 per month, or a one-off purchase, starting at US$299.
More: www.soundparticles.com