Released in 2018, the PreSonus Atom pad controller is a flexible production and performance instrument that connects to a computer using USB and works with multiple DAWs but is especially tightly integrated with the PreSonus Studio One recording and production software. Now PreSonus and Ableton are jointly offering Atom integration with Ableton's Live software (v10.1.5 and later).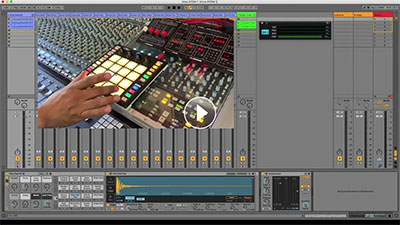 The collaboration allows a production to be originated with Atom and Studio One, and then performed onstage using Atom to launch clips and scenes in Ableton Live, change track volume and panning, and switch between Session and Arranger views – all while playing virtual instruments and Live's Drum Rack device from Atom's pads. Live's mixer can be navigated using Atom's Channel mode, selecting, soloing and enabling channels for recording, as well as stopping all clips on a selected channel.
A second Atom can be added to an Ableton Live setup, using one to perform and the other to launch and record clips. Two or more Atom Midi pad controllers can also be used to extend the performance range for instruments and Drum Rack.
Any Atom purchased after 20 October 2019, includes both Ableton Live Lite and Studio One Artist, plus a course of lessons from Melodics to help with finger drumming skills and new ways to create on the Atom controller.
Atom-Live integration requires Live v10.1.5 and later and Atom firmware version 3.4, which is now available through PreSonus Universal Control v3.1.2.
More: www.presonus.com